Zeta Aluminum Throttle Tube
ALUMINUM THROTTLE TUBE
SPECIFICATIONS:
- Made of A6061 aluminum with hard anodized finish.
- Removable end cap design allows the use with bar end plugs or aluminum hand guards.
- High throttle tubes available for dual sport models for better acceleration.
- Special tapered inside tube design keeps the distance between the throttle tube inner and handlebar. Greatly reduce frictional resistance and allows smooth acceleration.
Check out these easy to find application charts for your bike.
www.zeta-racing.com/bikes/index.html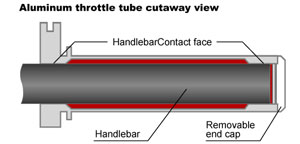 ZETA ALMINUM THROTTLE TUBE
2016.10 updated
Bike
Year
Part number
Standard
Hi Speed
HONDA
CRF150R
07-17
ZE45-5015
-
CRF250R
04-17
ZE45-5007
-
CRF250X
04-17
ZE45-5007
-
CRF450R
04-17
ZE45-5007
-
CRF450RX
17
ZE45-5007
-
CRF450X
05-17
ZE45-5007
-
YAMAHA
YZ250F
98-11
ZE45-5001
ZE45-5101
12-17
ZE45-5014
-
YZ400F-450F
98-13
ZE45-5001
ZE45-5101
YZ450F
14-15
ZE45-5014
-
16-17
ZE45-5001
-
YZ250FX
15-17
ZE45-5014
-
YZ450FX
16-17
ZE45-5014
-
WR250F
01-14
ZE45-5001
ZE45-5101
15-16
ZE45-5014
-
WR400F-450F
98-15
ZE45-5001
ZE45-5101
16
ZE45-5014
-
SEROW225/250,TRICKER
00-16
ZE45-5001
ZE45-5101
XT250X
06-16
ZE45-5001
ZE45-5101
WR250R/X
07-17
ZE45-5001
ZE45-5101
KAWASAKI
KX250F
04-17
ZE45-5001
ZE45-5101
KX450F
06-17
ZE45-5001
ZE45-5101
KLX450R
08-09
ZE45-5001
ZE45-5101
KLX125,D-TRACKER125
10-16
ZE45-5001
ZE45-5101
KLX150S
09-13
ZE45-5001
ZE45-5101
KLX250,D-TRACKER
 
 
 
04-16
ZE45-5001
ZE45-5101
SUZUKI
RMZ250
04-06
ZE45-5001
ZE45-5101
07-17
ZE45-5014
-
RMZ450
05-06
ZE45-5001
ZE45-5101
07
ZE45-5014
-
08-17
ZE45-5001
ZE45-5101
RMX450Z
10-16
ZE45-5001
ZE45-5101
DRZ400R/S/SM
00-16
-
ZE45-5111
DR250S/R
92-04
-
ZE45-5111
250SB
 
 
 
04-06
ZE45-5001
ZE45-5101
KTM
250SX-F/XC-F
06-15
ZE45-5021
-
250EXC-F/XCF-W
06-16
ZE45-5021
-
350SX-F/XC-F
11-15
ZE45-5021
-
350EXC-F/XCF-W
12-16
ZE45-5021
-
450SX-F/XC-F
06-15
ZE45-5021
-
450EXC/XC-W
06-16
ZE45-5021
-
400-530SX-R/EXC
04-16
ZE45-5021
-
HUSQVARNA
FC250-450
14-15
ZE45-5021
-
FE250-501
14-16
ZE45-5021
-